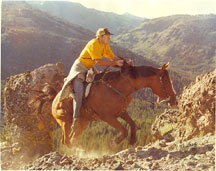 Dr. Mark and Tania Dunlap
The owners of Spring Valley Ranch have been involved with horses since childhood. Mark was active in 4H in Malibu, Tania conditioning horses and competing in NATRC rides in Marin County. They met while attending the University of California at Davis.
Mark and Tania married in 1970. Tania earned a Bachelor of Science degree and gained a position as a Research Associate in the Department of Animal Physiology, conducting research in the field of reproductive physiology. Mark received his Doctorate in Veterinary Medicine in 1972.
They spent a few months working in the San Francisco Bay Area and quickly decided that wasn't where they wanted to stay. Paradise seemed like the perfect place and Mark joined Skyway Pet Hospital that year. Tania commuted to Davis for five years after they moved to Paradise in 1972. They owned Skyway Pet Hospital and Mark had divided his time between small animal practice there and equine practice (also barn building, welding, plumbing and fence mending) at Spring Valley Ranch. Skyway Pet Hospital was destoyed by the Camp Fire along with the community of Paradise. Mark now spends his time entirely at Spring Valley Ranch, except for an occasional fishing trip to Ft. Bragg..
Mark has a special interest and expertise in equine reproduction. He has attended postgraduate courses at Colorado State University in stallion and broodmare management, and fresh/frozen semen technology.
The veterinary laboratory facilities at Spring Valley Ranch are completely equipped to provide services for transported semen. The technical experience of Mark and Tania make this ranch an ideal place to send broodmares to be managed for insemination by transported semen.
Mark is meticulously expert in determining and correcting the causes of infertility in problem mares and has brought many "impossibly infertile" mares back into production. Together, Dr. Mark and Tania have over sixty years of postgraduate technical and practical horse breeding experience; in addition to their lifelong involvement with performance horses.
The Dunlaps purchased their first Arabian horses in 1974 to compete in endurance riding and have both earned their Tevis buckles - now that the barns are built and the boys are grown, and Mark has been "retired" from small animal practice they are looking forward to enjoying their horses again!

Mark and Tania with their son Bill, make their home at Spring Valley Ranch and are involved everyday with health and well-being of their own and their client's horses
.